Designing for iOS Webinar in September
Featured
Join FMI Tuesday, September 17, 2013 for a special event. Level: Intermediate: FileMaker Go, you can take your existing FileMaker solutions with you on your iPad or iPhone without major modifications. But just like when designing a website for mobile devices, there are several things to keep in mind when building a solution for FileMaker Go.
Learn the key, yet simple, design considerations that will help you build solutions that truly feel like they were built for your iPad and iPhone. We'll set guidelines for objects' appearances and sizes, streamline data entry when using touch interfaces, and prevent unwanted zooming. And we'll look at some best practices for working with the unique features of iOS devices, such as screen sizes and rotation, virtual keyboards, and the Home button.
Join us for a one-hour presentation with Chad Novotny from 12ti Studios, and Mia Roop from FileMaker, Inc. Please reserve your place today for this exclusive event!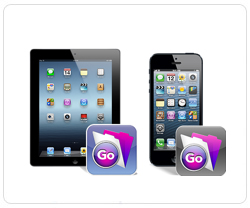 Date & Times:
Tuesday, September 17, 2013
8:00 a.m. - 9:00 a.m. Pacific Time (11:00 a.m. - 12:00 p.m. noon Eastern Time)
REGISTER NOW
Tuesday, September 17, 2013
11:00 a.m. - 12:00 p.m. Pacific Time (2:00 p.m. - 3:00 p.m. Eastern Time)
REGISTER NOW
Location:
On your computer over the Internet
Duration:
60 minutes
Attend Webinar on iPad:
Citrix GoToWebinar Client
The latest news and press releases from FMI. FileMaker is the leader in easy-to-use database software. Millions of people, from individuals to some of the world's largest companies, rely on the FileMaker Platform to manage, analyze and share essential information using iPads, iPhones, Windows, Mac and the web. FileMaker, Inc. is a subsidiary of Apple.
Website: www.filemaker.com