Taking My FileMaker Solution Mobile A FileMaker Web Seminar
Featured
You've created a database, but now how do you make it available so your users can access it from anywhere they have a internet connection? This webinar will focus on best practices for users in the field and how to tailor your database to fill the specific tasks that are required of a mobile user. We will discuss different hosting options, web and iOS based access, and look at the best methods for mobile data entry such as barcoding and drop down lists. By the end, you will be able to plan your own mobile database deployment and determine the necessary mobile workflows so your users can efficiently perform their job on the go.
Join us for a one-hour presentation with Duane Maas and Matt Hintz from MC Services, and Mark Ringo from FileMaker, Inc. Please reserve your place today for this exclusive event!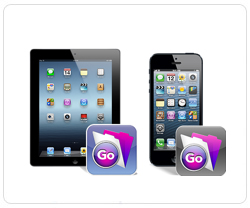 Date & Times:
Tuesday, August 6, 2013
8:00 a.m. - 9:00 a.m. Pacific Time (11:00 a.m. - 12:00 p.m. noon Eastern Time)
REGISTER NOW
Tuesday, August 6, 2013
11:00 a.m. - 12:00 p.m. Pacific Time (2:00 p.m. - 3:00 p.m. Eastern Time)
REGISTER NOW
Location:
On your computer over the Internet
Duration:
60 minutes
Attend Webinar on iPad:
Citrix GoToWebinar Client
The latest news and press releases from FMI. FileMaker is the leader in easy-to-use database software. Millions of people, from individuals to some of the world's largest companies, rely on the FileMaker Platform to manage, analyze and share essential information using iPads, iPhones, Windows, Mac and the web. FileMaker, Inc. is a subsidiary of Apple.
Website: www.filemaker.com