Using Container Fields and Related Records in FileMaker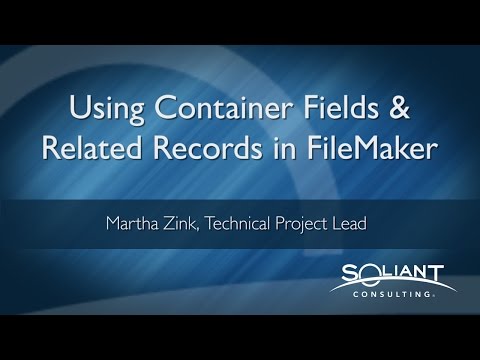 This video discusses a scalable method to add multiple types of container data to a FileMaker database. Martha uses popovers, script parameters, and related records to create a new child record.
Soliant Consulting employs the largest FileMaker development team in the world. We have a deep bench of talent starting with our CEO, Bob Bowers: he's co-authored seven books, led the team that has written six editions of the Authorized Training Series for FileMaker, Inc., spoken at more than a dozen FileMaker Developer Conferences, and has taught literally thousands of students spanning two decades of leadership in the field. Certified Expertise Soliant's team is certified in every version of FileMaker Pro and are specialists in building high-performance databases, hybrid web-FileMaker applications, integrations with a range of technologies including SQL, and conversions from prior versions. We work with your solution as is or can build from scratch. Find out how we can take your FileMaker databases to the next level.
Website: www.soliantconsulting.com/filemaker